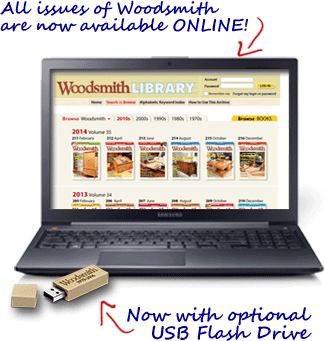 Buy
ONLINE

access to
241 issues of Woodsmith Magazine!

Woodsmith Library ONLINE…ONLY $79!
Access every issue ever published, over 200 issues
Get digital and print versions of Woodsmith books
Have instant online access on your computer, laptop — even a tablet!
Don: Hey, Bryan! Have you seen the NEW version of the Woodsmith Library Online?
Bryan: I use it all the time! Over 200 issues—it's a great resource.
Loading…
Don: Now you can get the digital version of the magazine downloaded right into the library before the print issue arrives in the mail.
Bryan: And if you see a project you like, download the pages you need and head right to the shop and get started.
Don: I really like the PDFs but there's also a much improved page flipper, so you can easily flip through the issues. You can even zoom-in, so it's just like reading a print issue of the magazine.
Bryan: I really like to look through the back issues because it gives you a lot of great project ideas, tips and techniques.
Don: The page flipper also allows you to preview issues by reading the first few pages, including the table of contents, so you can see what all the issues contain, before you even decide to buy the library!
Bryan: That's great for all our past issues—but we also have a lot of great Woodsmith Books, like Ultimate Table Saw Handbook and one of our most popular books that's now out of print, Tough Cuts Made Easy.
Don: All of the books are now available at WoodsmithLibrary.com and can be purchased separately whether or not you own the online library. You can buy the digital versions for only $7.95…or for only two dollars more you get the digital version and a print copy!
Bryan: That sounds like a great deal on individual Woodsmith Books!
Don: It is a great deal—and I just found out that new lower pricing on the online library means you can get unlimited access to over 200 issues of Woodsmith for only $79!
Bryan: That's a GREAT deal—but what if I also want that Back Issue Library on USB Flash Drive?
Don: You can get the USB Flash Drive too! After you buy the online library, if you want the USB Flash Drive, it's just $20 more! You get the USB Flash Drive, plus the online access to all back issues. And the USB Flash Drive is shipped free in the U.S. Just go to WoodsmithLibrary.com and check it all out!
Woodsmith Back Issue Library ONLINE…ONLY $79!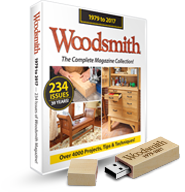 Have you already purchased the Back Issue Library USB Flash Drive or DVD?
Get FREE ONLINE ACCESS to all the issues on your USB Flash Drive or DVD!
Click here to verify your purchase and activate your account.